On May 31, the first modern Special Forces training complex, Shoot-house, equipped with SKIFTECH systems, was opened at the National Guard training facility, in Varash, Ukraine.The training complex was created as part of a partnership between the National Guard and the U.S. National Nuclear Security Administration.
The main purpose of the Shoot-house is to practice freeing the premises and hostages from armed terrorists. Electronic systems are used to simulate enemy actions, which can be controlled both manually and automatically according to a predetermined training scenario.
What does the Shoot-house complex consist of?
The Shoot-house complex consists of a large number of electronic components that simulate enemy actions and add stress factors, creating conditions as close to real combat as possible.
SKIFTECH personal kits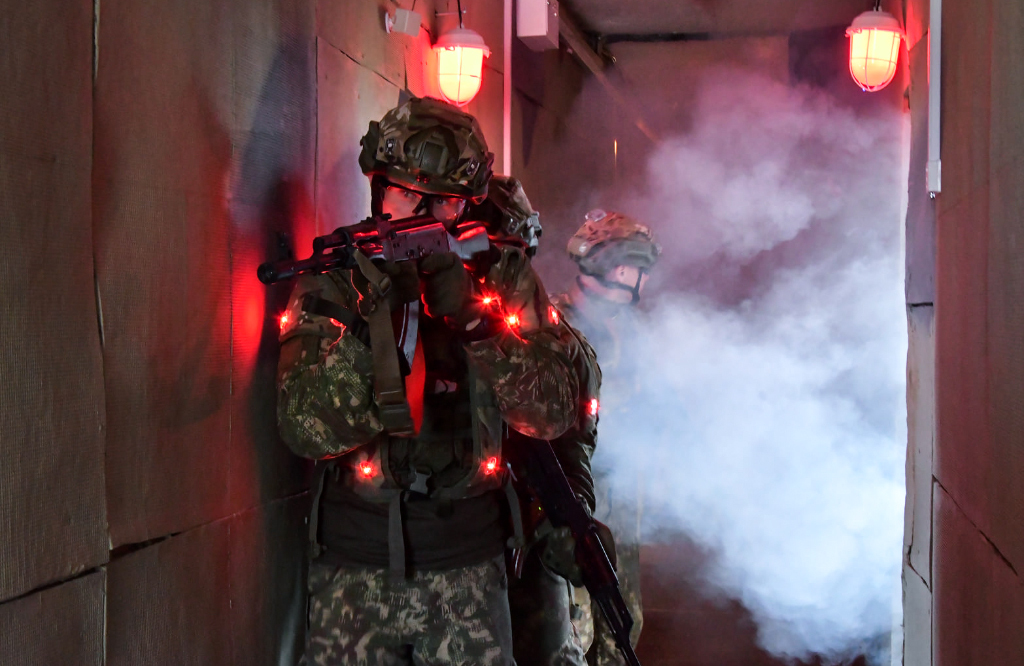 Before the training, each combatant receives mock weapons with laser emitters for firing simulation and equipment with sensors that register the conditional defeat of fighters.
Electronic targets and explosive device simulators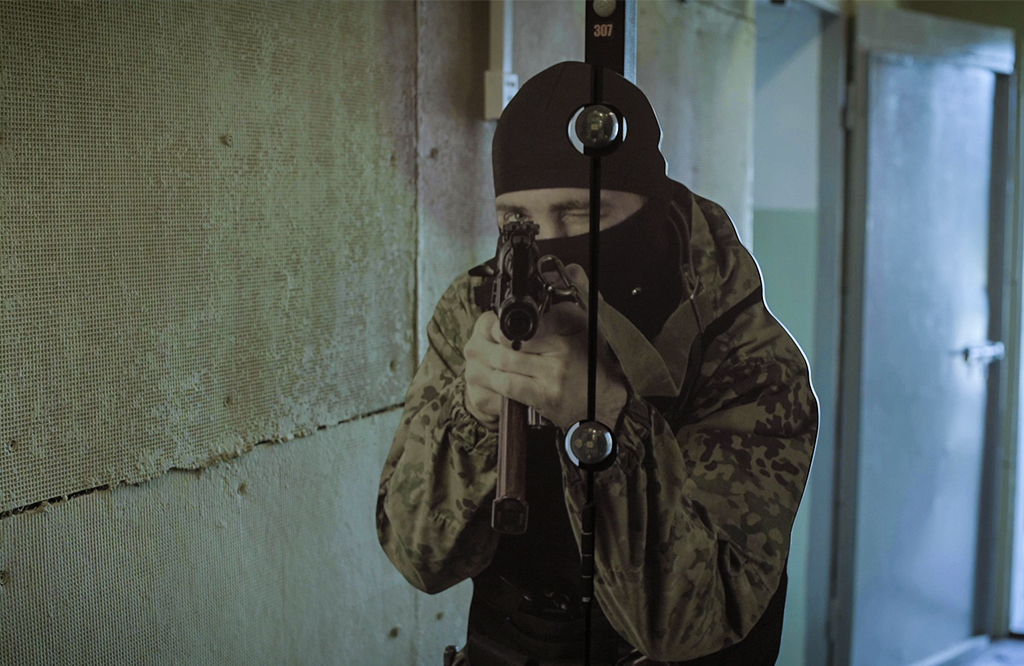 Targets can hit fighters or be hit by fighters, thus simulating the action of enemy snipers and shooters. Hostage targets are set up to train fighters to quickly identify hostile or peaceful targets.
Explosive device simulators simulate pressure mines, tripwires, grenades, and others.
Systems for creating stressful situations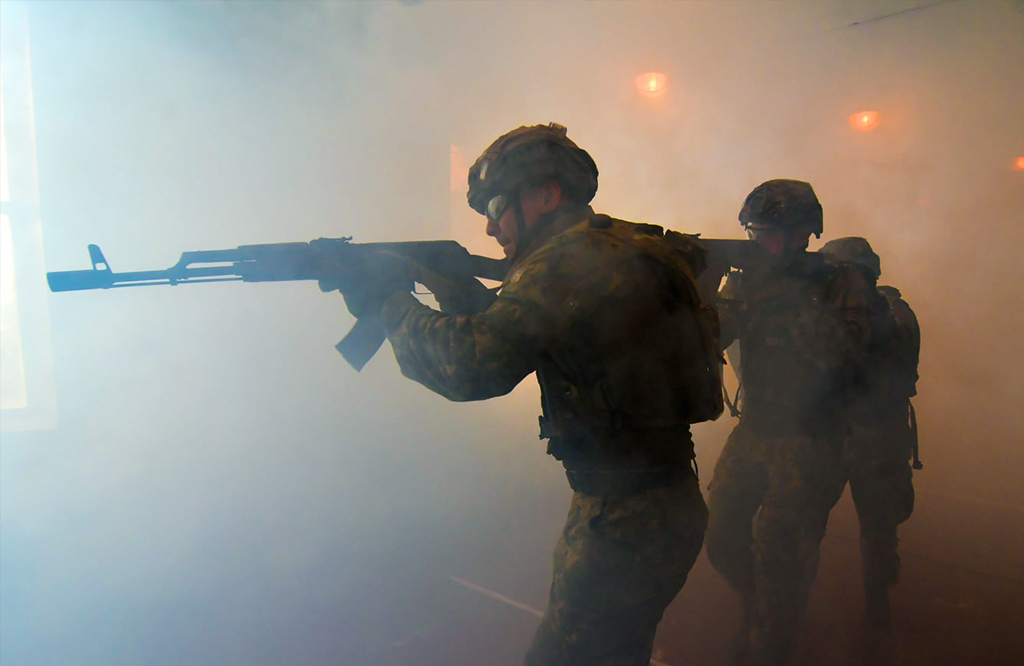 Controlled devices create noise, light, and psychological stimuli, change room lighting, and simulate the conversation of simulated terrorists or the screaming and crying of hostages.
Control center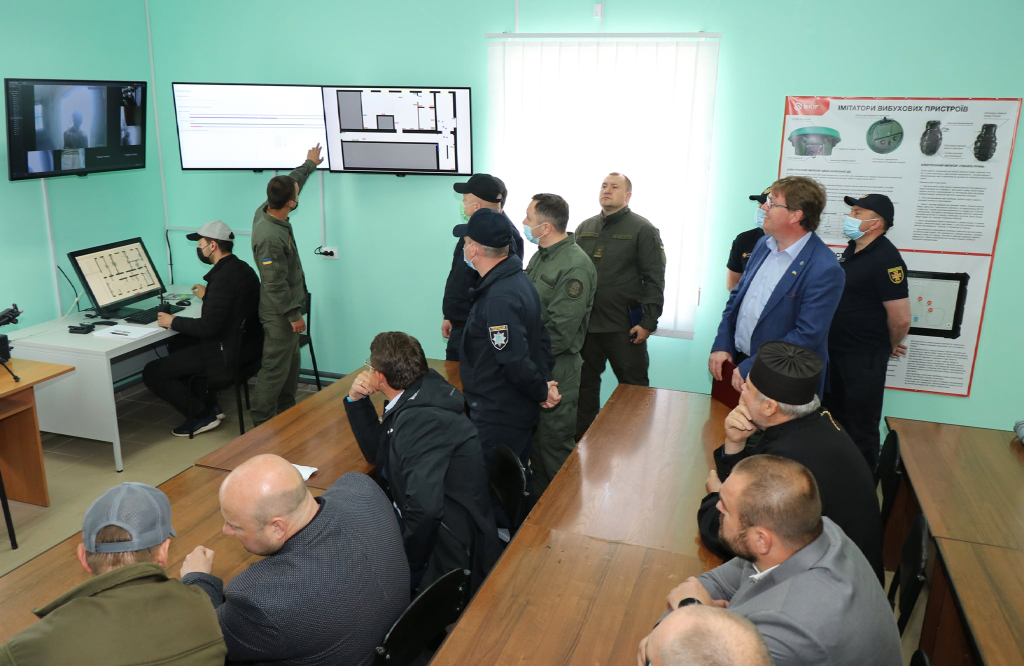 The video from personal cameras, movement, heart rate and other psychological indicators of fighters are displayed on large monitors in the control room. This enables performance analysis, error detection, and learning how to manage fighters during special operations.
The military about the Shoot-house
«All statistical data and video from action cameras are displayed on the control panel of the complex, where you can conduct an in-depth analysis of the actions of each soldier and the unit as a whole. The technical base of the complex also includes a quadcopter for external reconnaissance, a paramedic tablet for the first aid simulation and a counter-sniper system. Also, if necessary, you can partially apply the components in combination with the SKIFTECH system and in open terrain.» –
Lieutenant colonel Anatoliy Romaniuk, deputy commander of the HR unit, Military Unit Number 3045 NSU.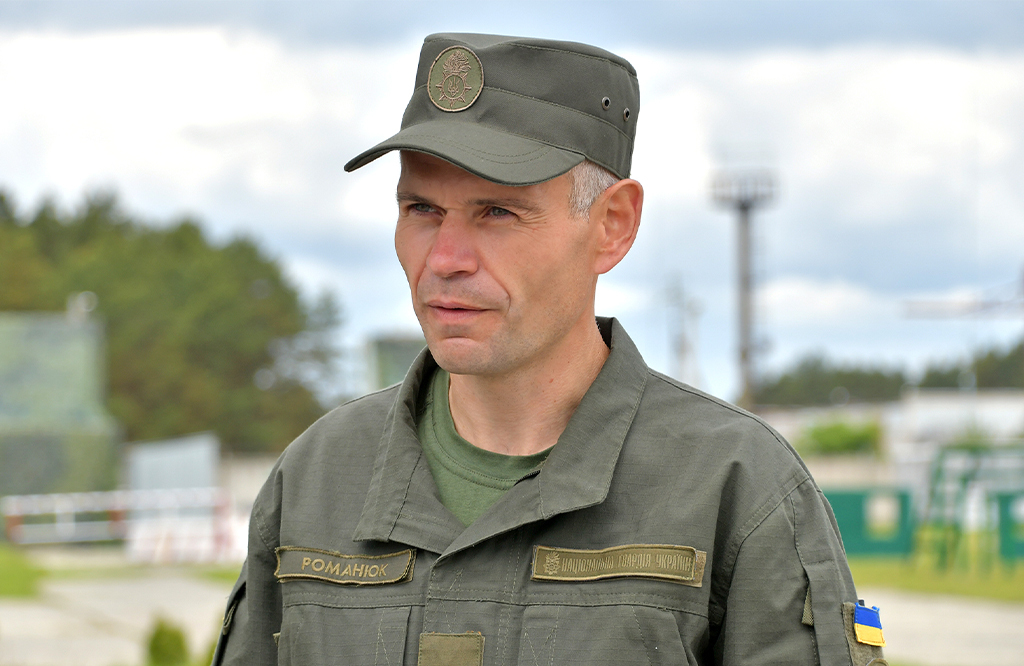 «This modern complex will improve the professional training system, significantly improve the skills of soldiers performing the tasks of physical protection of nuclear power plants. The professional training improvement will enhance the level of NPP security and ensure effective response of NSU units to existing and potential challenges and threats to the security of strategic facilities» –
Colonel Viktor Grabchak.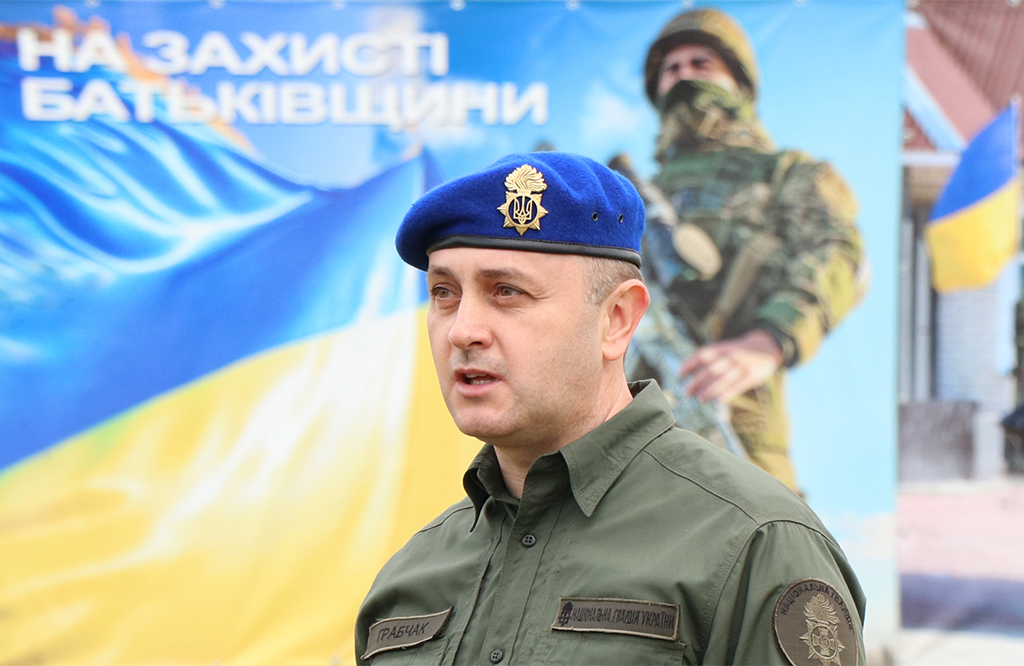 Photo materials and quotes were sourced from the official RAES Press Center: https://www.rnpp.rv.ua/poryad-raes-vidkrili-nadsuchasnij-navchalno-trenuvalnij-czentr-naczgvardiyi